"Simultaneously rich and fragile, beautiful original music based around a unique sax/string quartet/drums line-up" – Jazz at the Lescar
I was really affected by a particular photograph taken by Voyager 1 in 1990; the Earth as seen from a distance of 6 billion kilometers and appears less than 1 pixel in size. For a while, I had been toying with the idea of writing a piece for string quartet, a horn and drums, and I felt that this provided me with the perfect material. There are four movements, each observing the Earth from different perspectives, the titles of which are taken from Carl Sagan's beautifully memorable commentary about this photograph, the "Pale Blue Dot".
I: Everyone You Love
II: Endless Cruelities
III: Momentary Masters of a Fraction of a Dot
IV: Save Us From Ourselves
My hope is that the listener will, albeit temporarily, be able to take a step back from any frustrations and anxieties of "everyday life", and the atrocities of the world, and place themselves in the serenity of the edge of our Solar System, where all of humanity's problems seem insignificant.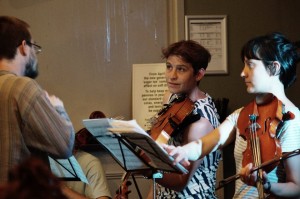 Mark Hanslip tenor sax | Gemma Bass violin | Aby Vulliamy viola
Alice Eldridge cello | Seth Bennett double bass | Johnny Hunter drums
Mark Hanslip (tenor sax) – emerged as a key player on the London Jazz scene in the mid-2000s, performing and recording with groups such as Outhouse, Nostalgia 77, and TOM-MIX (featuring the late drummer Tony Marsh).  He has also been seen working with major figures including Steve Lacy, Kenny Wheeler, Bob Brookmeyer, Hans Koller and Nate Wooley.
Gemma Bass (violin) – straddling the bridge between the Classical, Jazz and Improv worlds, Gemma is a violinist for both the BBC Philharmonic and the Manchester Camerata, and founder of the contemporary Classical chamber ensemble, the Vonnegut Collective.  Gemma also appears on the Jazz scene in Ben Cottrell's MJF commission 'New Seeing' and with Paul Baxter's 'Mahakasyapa Ensemble'.
Aby Vulliamy (viola) – known for her superb ability to cross genres, Aby has performed with many luminaries from all types of music including Jazz/Improv musicians Evan Parker, Maggie Nichols and Matthew Bourne; Folk musicians Bridget St John, Mary Hampton, the Incredible String Band's Mike Heron and Lucy Farrell; and, from the Rock/Indie world, Yo La Tengo, Aidan Moffat and Belle and Sebastian's Stevie Jackson.  Aby has also worked with the Scottish Chamber Orchestra and the BBC Scottish Symphony Orchestra.

Alice Eldridge (cello) – A PRS 'Women Make Music' award winner in 2013 with the beguiling chamber ensemble, Collectress, she has also appeared on BBC TV and BBC Radio 4 as a soundscape ecologist; on BBC Radio 3 as a free jazz cellist; on BBC 6 Music as a contemporary chamber composer; and on BBC Radio 1 as a pop bassist. Alice has also worked with such esteemed Rock/Indie musicians as Radiohead's Philip Selway, Bat for Lashes and East of Eden's Ron Caines.
Seth Bennett (double bass) – Parliamentary Jazz award winner with IDST in 2010.  He has more recently been heard playing with American heavyweights such as Joe Morris and Jeb Bishop, with Swiss Afro-punk Dadaists, Orchestre Tout Puissant Marcel Duchamp, and with the father of Ethio-Jazz, Mulatu Astatke.
Johnny Hunter (drums) – One of the most sought-after drummers of his generation, performing with dozens of groups across the UK and Europe, including with Nat Birchall, The Spirit Farm, Sloth Racket, Blind Monk, Metamorphic, Word of Moth, Beats & Pieces Big Band, the Manchester Jazz Collective, and many more.  He also leads and tours regularly with several of his own groups who are often heard on BBC radio and featured in well-respected print media such as Jazzwise and The Wire.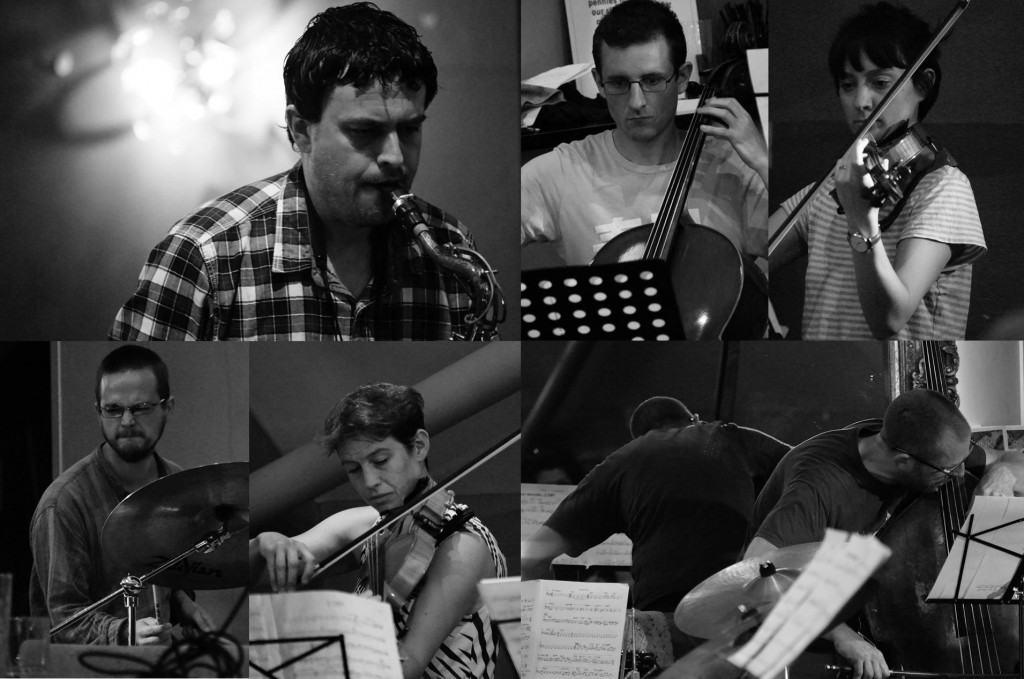 Photos by Peter Fay, June 2018