February 2016 tour dates!
The Johnny Hunter Quartet are a contemporary Jazz group who formed to explore the freedoms and challenges presented by the absence of a harmony instrument.  They play mostly original material written by Johnny, specifically for this line up.  It features Ben Watte (tenor sax), Graham South (trumpet), Stewart Wilson (double bass) and Johnny Hunter (drums).
They released their first recording, "Appropriations", on Efpi Records on 16th December 2013.  You can download a PDF of the Efpi press release here.  This is the wonderful artwork by the brilliant artist, Angela Guyton!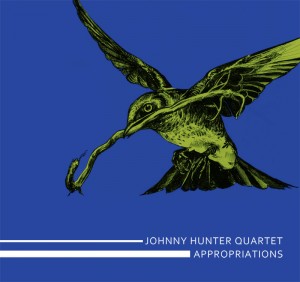 You can buy it from http://johnnyhunterquartet.bandcamp.com/ as well as being able to listen to the whole record online for free!
Listen to 'Five Stories High', the first tune on the EP, which was broadcast by Jez Nelson and the BBC Jazz on 3 team.
Here's a bootleg recording of one of their performances at the Manchester Jazz Festival 2013. It was part of a much longer piece which included two other bands, the Anton Hunter Trio and Roadrunner Honey, culminating in a "hell-for-leather workout from all players".

"Ayça" filmed at Parr Jazz, Liverpool on 25th Feb 2014