The Johnny Hunter Quartet are a contemporary Jazz group who formed in 2010 to explores the possibilities and challenges afforded by the absence of a harmony instrument with compositions drawing on Johnny's long-standing interest in the piano-less groups of Sonny Rollins and Joe Henderson, through to those of John Zorn and Chris Speed.
Click to download press kit (PDF)
Together with Mark Hanslip (Outhouse, Loop Collective), Graham South (Beats & Pieces Big Band) and Seth Bennett (IDST), their music currently exists within the freer, more exploratory side of Jazz, leaning more towards the approach of Ornette Coleman, Henry Threadgill and Joe Harriott, whilst building on their previous explorations into Middle Eastern approaches to improvisation.
They have performed at such esteemed venues as the Band on the Wall, Ronnie Scott's, Kings Place, and at the London and Manchester Jazz Festivals, among many others. They have also appeared several times on BBC Radio 3.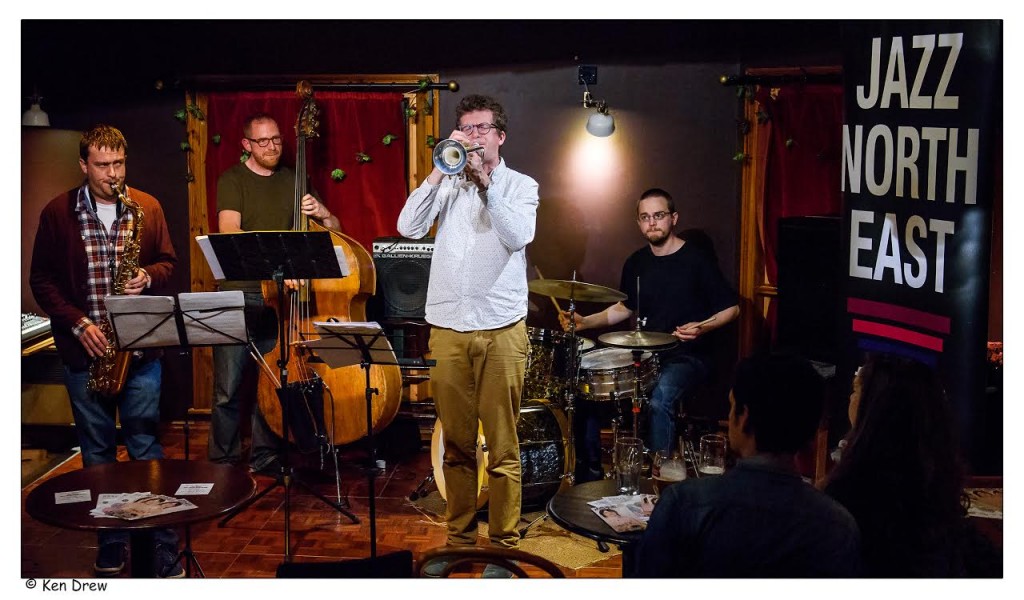 "Admirably reflects the independent creativity of the new Manchester scene." – John Fordham, The Guardian
"Connects authentically with jazz tradition, whilst developing its own voice through original composition – a fabulous advertisement for British jazz." – London Jazz News
"Hard-grooving Jazz that's filtered through the investigation of more unfamiliar dance metres." – Selwyn Harris, Jazzwise
Mark Hanslip (tenor sax) – Graham South (trumpet) – Seth Bennett (double bass) – Johnny Hunter (drums)
Johnny Hunter Quartet from jazznorth on Vimeo.
Hunter released his first quartet recording, "Appropriations", on Efpi Records on 16th December 2013, with Ben Watte (tenor sax), Graham South (trumpet) and Stewart Wilson (double bass).  You can download a PDF of the Efpi press release here.  This is the wonderful artwork by the brilliant artist, Angela Guyton!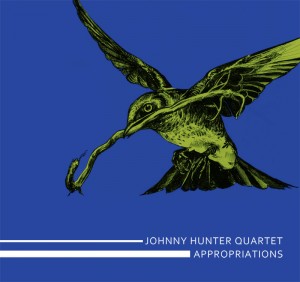 You can buy it from http://johnnyhunterquartet.bandcamp.com/ as well as being able to listen to the whole record online for free!
Listen to 'Five Stories High', the first tune from the EP, which was broadcast by Jez Nelson and the BBC Jazz on 3 team.
Listen to his second album, "While We Still Can", also release on Efpi Records.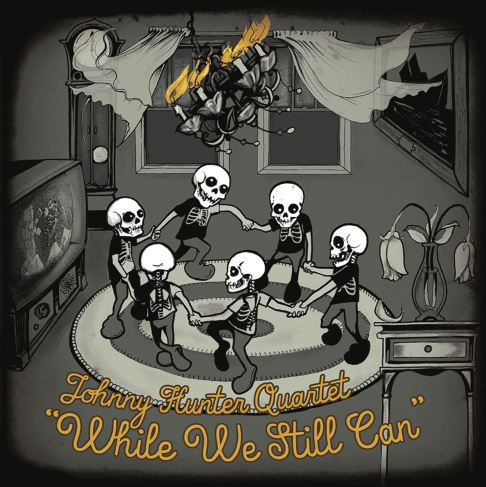 Watch "Ayça" filmed at Parr Jazz, Liverpool on 25th Feb 2014.