Last week was the first ever Brighton Alternative Jazz Festival organised by a great team of people led by Daniel Spicer.  It was an incredible line-up of musicians over two days, focusing on the more progressive Jazz.  Both days sold out.  It was a really special event to be a part of; performing with Corey Mwamba and Dave Kane in their trio, Yana, and just being surrounded by incredible musicians all day.  It was a bit intimidating arriving at the venue and running into brilliant drummers around every corner!
There was a great atmosphere and amazing music; I'm really looking forward to it again next year!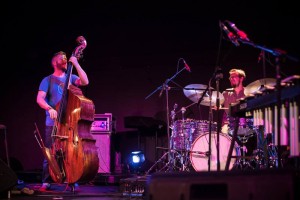 In other news, the monthly large ensemble residency at the Wonder Inn, the Manchester Jazz Collective, have just been into the studio to record.  It was a good session and I hope it'll be available for people to listen to soon.  I've also been in the studio recording for Tom Thorp's group, Mercury.  I enjoy playing music that's very different to what I usually do, especially when it's with lovely people!  Here's a video of one of the tracks.