First off, is it an album or is it an EP?  I don't really know…  I think it's probably an EP.  Either way, it's here and it looks fit!  I owe a massive thank you to everyone who helped me with this.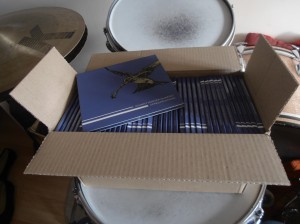 I don't know when the label bosses are wanting to officially release it but I will definitely be selling it behind their backs to anyone who wants one…
Graham South (trumpet), Ben Watte (tenor sax), Stewart Wilson (double bass), Johnny Hunter (drums).
More incredible artwork from Angela Guyton; the best artist I know.  She also did the amazing cover for Skamel's debut album.  It was beautifully recorded and mixed by Ben Cottrell, and mastered by Ben Watte.  CD replication from Disc Wizards – I used these guys for Skamel's album last year and was very happy to use them again.  I definitely recommend them; their digipaks look great.
We're playing at Creative Space in Manchester in a couple of weeks time so come down and pick up a copy!  Tuesday 10 December – 8.45pm @ The Slug and Lettuce, Wilmslow Rd, Didsbury, Manchester, M20 6QZ.