The Anton Hunter Trio Album is released today.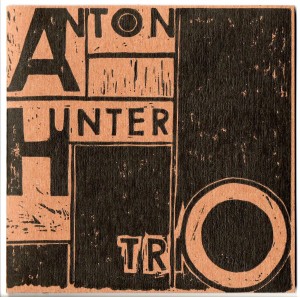 Anton Hunter (guitar), James Adolpho (double bass), Johnny Hunter (drums).  Recorded on 20th February 2013 by Anton Hunter at the Music Place, Altrincham.  Mixed by Anton Hunter and Sam Andreae, and Mastered by Anton Hunter and Ben Cottrell, March 2013.
It's available from his shop, and you can stream it all there for free so you can try-before-you-buy.  Fantastic (as usual) art work from the very talented Angela Guyton.  If you buy the CD, the cover will have been hand printed either Angela or Anton (if you can, ask for one that Angela did…).
There's still chance to buy them in person too, the album launch gig is at Matt & Phred's in Manchester tomorrow (Wednesday 1st May) and we'll also be playing at The Oxford in London on Monday 6th.