I've bee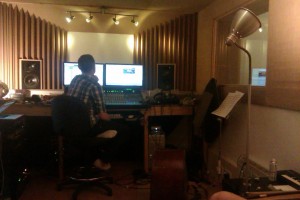 n at Airtight Studios over the weekend recording an album with Skamel; it went really well despite the near-sauna temperatures.  Here are some lovely photos of us to prove we were working hard.
The album should be ready for release in October this year.  There are plans for a tour to coincide with the release so you'll be able to buy it directly from the band – how exciting!  (Tim lost this game of chess, by the way.)
To keep up-to-date with the progress of the album, keep checking the Skamel page on my site or you can ask to be added to our mailing list by e-mailing skamel@hotmail.co.uk.